Fried onion flakes
8,44€
Product obtained from selected and cultivated onions (Allium cepa). They are sorted, washed, cut into flakes and dried with hot air. Finally, the flakes are fried in vegetable oil.
Onion flakes are golden in colour. Characteristic smell and taste of fried onion.
117 available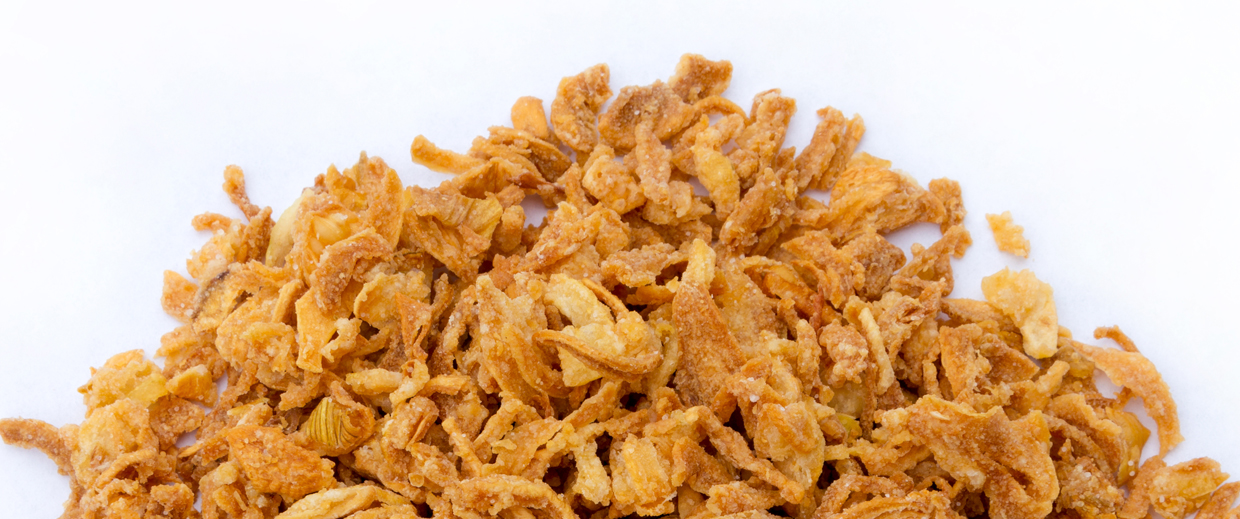 Applications:
It can be used as an inclusion inside doughs such as bakery products or as a decoration to add crunchiness to savory dishes. To give flavor and texture to condiments such as pâtés, to give a special touch to soups, salads, sauces, ready meals or to decorate dishes.
Storage conditions:
Vida útil de 17 meses desde fecha de producción de la materia prima, en las condiciones de almacenado especificadas. Conservar en un envase cerrado herméticamente, en lugar fresco, seco y oscuro (<25ºC). Producto higroscópico.
Format:
Multilayer PET + LPDE bag of 500 g. Modified atmosphere packaging.
Nutritional information for 100g of product:
Energy - 1734 KJ/413 Kcal
Fats - 11 g
Carbohydrates - 65.0 g
Fiber - 11,00 g
Protein - 8,30 g
Salt - 0,02 g
Allergens
None.
Ingredients
Onion (Allium cepa) (86%), non-hydrogenated sunflower oil (14%).
Dose
Quantity required (C.N.).