Raspberry crunch wetproof
43,00€
Crunchy pieces (2-10mm) of freeze-dried raspberry crunch coated with cocoa butter.
Sold out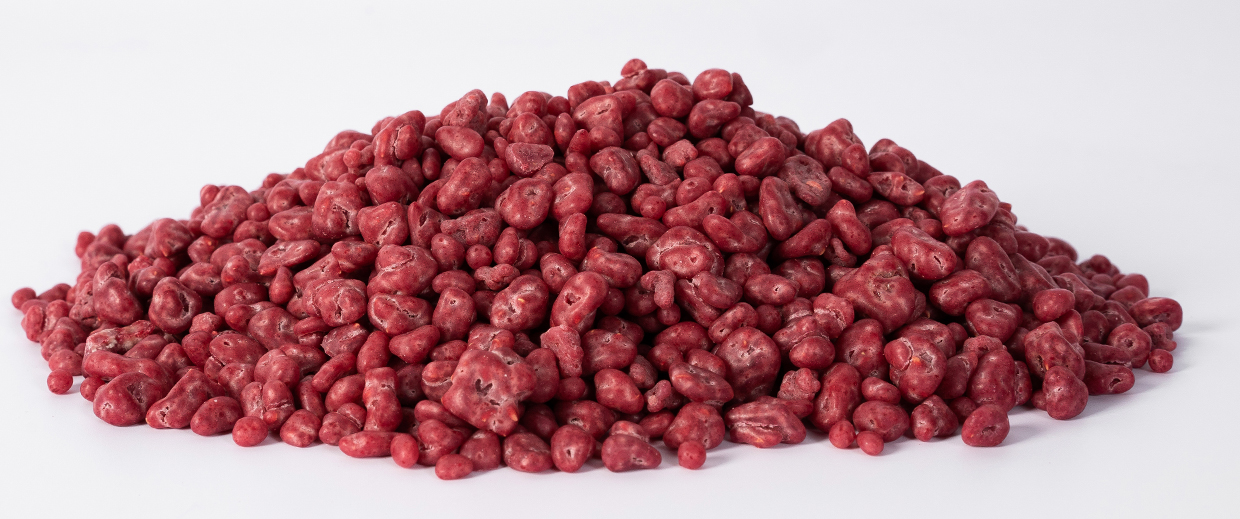 Applications:
The pieces remain crispy thanks to its insulating cocoa butter layer. It retains its properties in fatty media and is resistant to freezing and refrigeration. It can be used in a multitude of applications thanks to its resistance to humidity. It can be used as inclusion in chocolate bars, chocolates, cakes, pastry decorations, fillings, etc. It works very well as a topping for ice cream, ceviches, yogurts, granolas, etc.
Storage conditions
Vida útil de 12 meses desde fecha de producción de la materia prima, en las condiciones de almacenado especificadas. Conservar a una temperatura no superior a 20ºC, en lugar fresco y seco (< 65% HR), protegido de la luz solar y de olores agresivos.
Format
Rectangular PP can with 300 g PET + LPDE bag inside. Modified atmosphere packaging.
Nutritional information pper 100 g
Energy 2918.90 kJ / 706.60 kcal
Fat 66 g
Carbohydrates 25.60 g
Fibre 3,3 g
Protein 0,9 g
Sal  < 0,01 g
Allergens
None.
Ingredients
Cocoa butter (66%), raspberry crisp (34%) (sugar, raspberry, tapioca starch, raspberry juice concentrate).
Dose
Quantity required (C.N.).